Bravo and Olimpija serve up a spectacular City showdown: six goals, Pečar and Poplatnik the home heroes
What a game in Spodnji Šiška! Although Ljubljana was surrounded by bad weather and rain on Saturday, which made the pitch at ŽAK anything but perfect, the two
Bravo
and
Olimpija
played out an exceptional city showdown. The spectators – not a few of them – saw six goals and Bravo, who won 4:2, proved once again that he is a nightmare for Olimpija in his own stadium. The latter has been without a win in Spodnja Šiška since December 2019, this time suffering its third consecutive away defeat to the Ljubljana rival.
Although Olimpija, who had expectedly shuffled their line-up after playing a tough European match in Lille on Wednesday, were more enterprising at the start of the match, it was Bravo who took the lead. After 15 minutes, the hosts launched a quick counter-attack, which was stopped by Mateo Karamatić with a foul. A free kick from 20 metres was taken by Martin Pečar, a newcomer to Spodnja Šiška, who sent the ball masterfully over the living wall with his right and behind the back of the too-short Matevžo Vidovšek. The latter had no chance, the former Olimpija player's shot was simply too strong, too accurate.
Bravo for killing the first and the last
A few moments later, Beno Selan could have scored, too, as he came to a deflected ball in Olimpija's penalty area, but he shot perfectly down the middle – Vidovšek was on the spot this time. This was also the case after less than half an hour of play, when Matej Poplatnik was sure he had scored with a header, but Vidovšek, with a panther-like leap and masterful defence, made sure it stayed 1-0 for Bravo. Olimpija, who did not shine, equalised in 32. one minute, proving once again that interruptions are a very powerful weapon indeed. Aljaž Krefl crossed from a corner in front of the goal, where a too-lonely Mustafa Nukić jumped highest and headed into his former club's net.
V 35. In the first minute, it was already 2:1 for the Dragons. Bravo executed a promising action poorly and allowed a counter-attack by his opponent. The latter quickly got in front of Bravo's goal, where Nemanja Motika fired in from the right. The winger slipped on his shot, but still hit the ball well enough for it to fly between the Bravo defender's legs and past Matija Orbanić.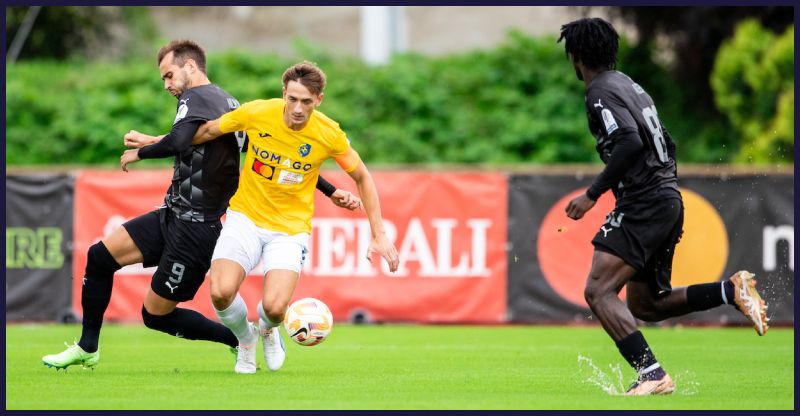 The spectacular game continued in the second half. Martin Pečar scored another outstanding goal (again from long range, this time with a fierce first-time shot) in the third minute of the second half to secure another draw. Then both teams had their chances, with Pedro Lucas even shaking the crossbar. V 65. Bravo regained the lead after Vidovšek made a big mistake. Matija Kavčič tried to cross from the left in front of goal, but actually shot towards goal. Vidovšek let the ball go in front of the goal line, as it would have gone into the goal, but this was water on Poplatnik's mill. The home striker was first on the ball and actually scored easily to make it 3:2.
Olimpija pressed towards Bravo's goal until the end of the game, which was hot on several occasions. Marko Brest, for example, missed the empty net after Orbanić's mistake, before Jakov Gurlica prevented the equaliser on the goal line. Olimpija did not score a third goal, but suffered their third defeat of the season. Meanwhile, Bravo, who scored his fourth goal in stoppage time through Rok Maher, celebrated his fourth win, almost closing the gap on this year's opponent. Bravo and Olimpija are separated by just one point in the Telemach First League standings.
This text was automatically translated using AI.
News
#martinpečar
#matejpoplatnik
#mustafanukić
#nemanjamotika
1. SNL
Bravo
Olimpija